A key advantage for our company is professional experience in the field of heavy materials and thick thread. We are clear that our success depends on the success of our clients. We know that each company has its specific needs,so we work with personalized solutions, seeking to identify and meet the demand of each client. It is in this way that HighTex has earned the trust of important companies.
We have in-house technicians who have over 20 years of combined experience in servicing and repairing these special sewing and cutting equipment used in manufacturing of lashing straps (Ratchet tie-down strap). HighTex heavy duty automatic sewing machines and automated cutting machines have been widely used by worldwide cargo lashing straps manufacturers in United States, Germany, Italy, United Kingdom, Argentina, Armenia, Australia, Belarus, Belgium, Brazil, Bulgaria, Canada, China, Colombia,Czech Republic, Fiji, Finland, India, Indonesia, Iran, Israel, Japan, Lithuania, Latvia, Malaysia, Mexico, Netherlands, New Zealand, Peru, Poland, South Korea, Romania, Russia, Serbia, Singapore, South Africa, Sweden, Thailand, Tunisia, Turkey, Ukraine, United Arab Emirates, Venezuela and Vietnam.
These highly specialized ratchet straps sewing machines have been developed taking into consideration the requirements of manufacturers of heavy duty ratchet straps & tie downs, that could reduce dependence on skilled workers. In addition, the quality of the seams will be controlled by computer or special device, so you can reduce the cost of the final product, improve the quality and increase the production speed. These measures will allow us to successfully compete with other manufacturers - both European and Eastern (China), offering our customers high quality products at low prices.
ASM911 New automatic programmable sewing machine for cargo lashing belts
A new generation of heavy duty shape-tacking machine for fall protection safety harness, cargo lashing belts and heavy-weight materials is now launched! Features in 3 times large bobbin capacity hook and most affordable function/price ratios to match your budget.
Click here for video on YouTube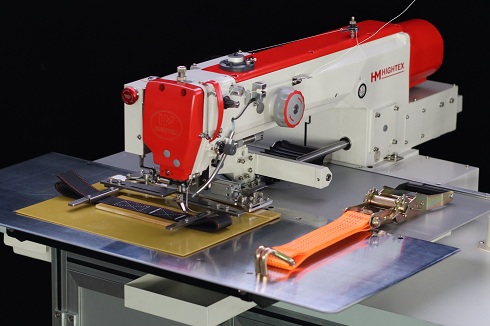 ASM911 can be with specialized clamp (custom made fixturing jig) for the manufacturer of cargo lashing belts & ratchet tie down strap. The advantage is zero-downtime, the machine can continuous working without any stop (no need of waiting for loading webbing, Ratchet and hook), due to its quick-changable pre-install jig. And in many cases, TWO WORKERS CAN OPERATE 3 MACHINES AT SAME TIME, GREAT FOR SAVING LABOR COST.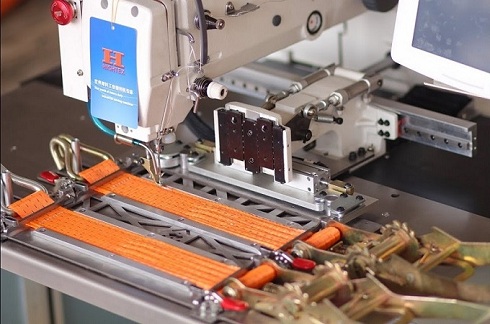 MLK500-3020N Automatic programmable pattern sewing machine with large clearance room behind needle and webbing positioning fixture for the manufacturer of heavy duty webbing cargo nets. The large space behind needle facilitates the easy and comfortable manipulation of work during sewing large size web cargo nets.
Click here for video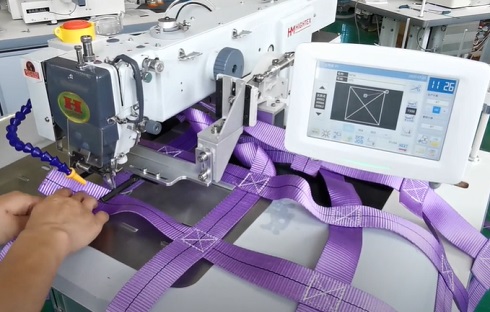 72600PLK Automated programmable pattern sewing machine for the manufacturers premium heavy duty ratchet straps, ideal for stitching 2-4 ply synthetic webbing with 3.5 mm of each (total thickness no more than 14 mm)
Click here for video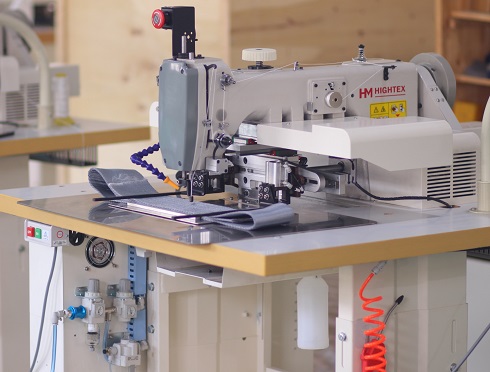 7273CNC/X Extra robust CNC programmable pattern sewing machine for heavy duty Ratchet straps, tie down straps. It can easily stitch 2-4 ply cargo webbing with 3.5 mm of each, using very strong thread up to Metric #7 (=V415, T-400, 1300Dx3). Thus with this automation, you can sew both ratchet lashing straps and heavy duty lifting slings, by changing the jig/clamp. In many cases, 2 automated sewing machines can be run by a single operator, greatly reducing labor cost.
Click here for video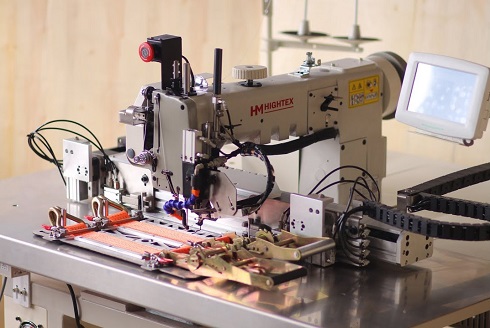 HighTex 828AM Heavy duty webbing point-marking cutter (heat cutter with marking)
828AM Heavy duty webbing point-marking cutter is an extra strong heat cutter and point marker for webbing straps. This affordable hot knife cutting and marking machine can automatically cut, seal and mark the positoin for subsequent sewing of height safety harness, seat belts, Ratchet straps / tie down straps, webbing lifting slings and military straps.
Click here for video on YouTube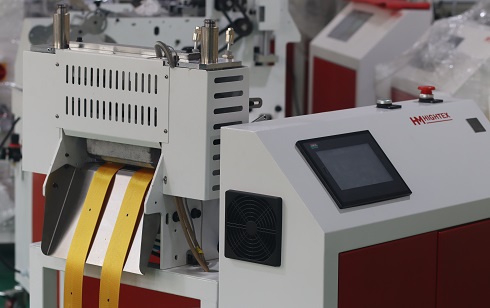 828SMC Heavy duty hot knife webbing cutting machine with marker (point marking) which can automatically mark the positoin for subsequent sewing of Ratchet straps and tie down straps
Click here for video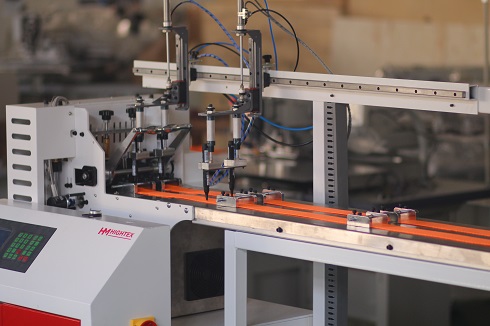 828G Automatic strapping machine (automatic tying machine or automatic banding machine) for packing finish cargo lashing strap
Click here for video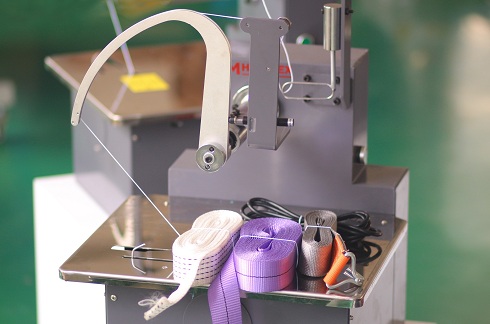 828-UV60-WPS Fully automated webbing cutting, measuring, winding and packing machine for the manufacturers of lashing straps
Click here for video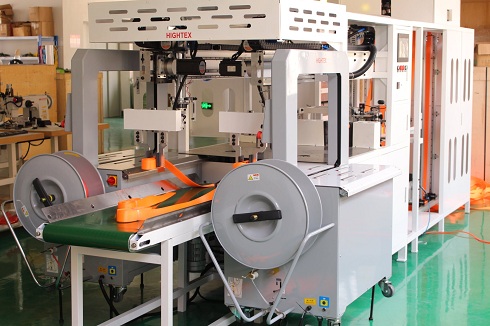 Best thread for sewing ratchet straps and lashing belts
HigTex P40 heavy duty UV treated sewing thread is a bonded polyester sewing thread, designed for applications exposed to the sun, salt water, wind, marine conditions and anywhere that can be tough on threads. It is one of the most strongest thread for safety and durable seams in the manufacturing of outdoor products and webbing products, such as lifting & rigging slings, cargo lashing belts & ratchet tie down straps, climbing rope & rescue rope, height safety harness & fall protection equipment, sailmaking, parachutes, tents, awnings, covers and military gear.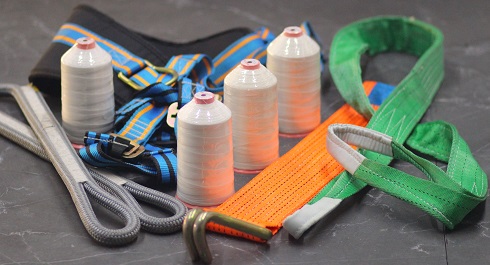 Which automatic sewing machine is best for ratchet straps?

If you have any questions or concerns, please feel free to contact us at info@automatic-sewing.com, thank you!