A key advantage for our company is professional experience in the field of heavy materials and thick thread. We are clear that our success depends on the success of our clients. We know that each company has its specific needs,so we work with personalized solutions, seeking to identify and meet the demand of each client. It is in this way that HighTex has earned the trust of important companies.
The furniture and upholstery industry faces constantly changing fashion trends. Exciting designs, colours and materials set the tone for the new models. Manufacturers have to be extremely flexible and able to put new ideas into practice without delay. The flexible sewing technology of the CowBoy (Hightex) machines help them to meet these requirements. If the existing standards are not sufficient, individual solutions are worked out together with the customers.
These highly specialized decorative stitch sewing machines have been developed taking into consideration the requirements of manufacturers of sofas, armchairs and car seats, that could reduce dependence on skilled workers. In addition, the quality of the seams will be controlled by a special device, so you can reduce the cost of the final product, improve the quality and increase the production speed. These measures will allow us to successfully compete with other manufacturers - both European and Eastern (China), offering our customers high quality products at low prices.
204-370BF Leather sofa sewing machine for thick thread decorative seam (topstitching)
The challenging sewing task in topstitching of leather sofas and car seat covers is to stitch over thick spots or over transversal seams. Skipped stitch, loose bottom thread, shorten stitch length, bobbin thread Knots and Tangles are the frequent problems. 204-370BF features excellent climbing properties and high needle penetration, can easily sew overlapping seams with thick thread (Tex 400 or 1300dx3 or 1.4mm braided thread), and guarantee constantly tight stitch formation. Up to 14 mm long stitches for decorative topstitching seams.
205-370BF Single needle topstitching with thick decorative threads to produce decorative seams
Decorative topstitching is a great way to add emphasis to a part of your leather sofas & armchairs and gives it a quality finish. Hightex 205-370BF is sophisticated upholstery sewing machine has been improved by the leading leather sofas and furniture manufacturers (La-Z-Boy, Ethan Allen and Natuzzi). New technologies of this machine are optimal conditions for making furniture and automobile upholstery, luxury leather goods and other technical textile articles.
Click here for video from leather sofas manufacturer
204-370-DP Double needle topstitching with thick decorative threads to produce decorative seams
Thick thread decorative stitching seams with 2 needles are widely used in upholstery, car interiors, furniture and leather goods. Hightex 204-370-DP post bed leather sewing machine has been developed taking into account the requirements of the car seat manufacturers, armchairs and sofas. Its design with several new technologies, perfectly adapted to the sewing averages qualified materials, heavy and very heavy.
Click here for video from leather sofas manufacturer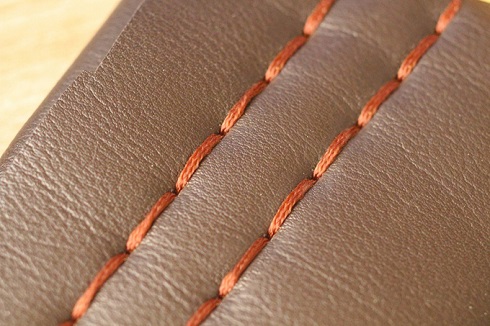 204-102MD Single and twin needle thick thread ornamental seams
The furniture and automotive upholstery industry faces constantly changing fashion trends. Hightex 204-102MD twin needle decorative stitching machine making your ideas a reality. The special roller presser foot can easily sewing corners of leather sofas & armchair, recliner chairs, leather car seat covers. 7 different cams for up to 14 different decorative stitches, including T-stitch, Box-stitch etc.
Click here for video from leather sofas manufacturer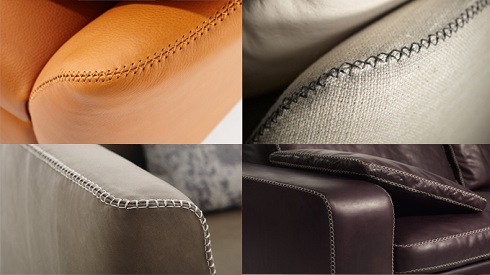 7700P Double needle walking foot programmable ornamental stitching sewing machine
This is the computerized version of Hightex 204-102MD. New technology of this machine are optimal conditions for ornamental stitching sofas, armchair, shoes, leather bags and automobile upholstery: The walking foot mechanism facilitates sewing over thick spots and cross seams (overlapped seams).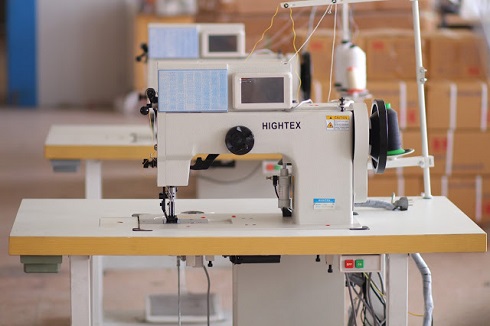 204-370PRO Post bed sewing machine for thick thread, double needle decorative seam or ornamental seam

204-370-PRO Post bed sewing machine twin needle, triple feed, crochet Barrel, suitable for twin needle decorative stitches or ornamental stitches on leather with braided thread. The latest thick thread topstitching technology, combined all advantages of above sewing machines, for example triple feeding system, rotary needle bar (to perform various ornamental stitch), Barrel shuttle hook and post bed design. It is the best decorative stitching machine for high end leather sofa and arm chair manuacturers.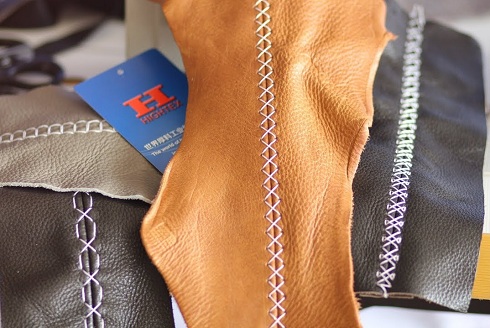 204-76-370 Long arm upholstery sewing machine for thick thread decorative stitches at middle of sofa & armchair
This heavy duty industrial sewing machine arm has been extended to give 760mm clearance, which is very useful when sewing larger panel, for example to make thick thread decorative seams at the middle of lounge sofa and armchair. Excellent stitch pattern and constantly tight stitches, even when sewing with extremely thick threads up to Nm 8/3 or 1.4mm braided thread; The sewing foot stroke up to 10 mm allows the safe climbing over differently high material plies; This long arm industrial sewing machine with a cheaper price than others on the market offers average European quality standards.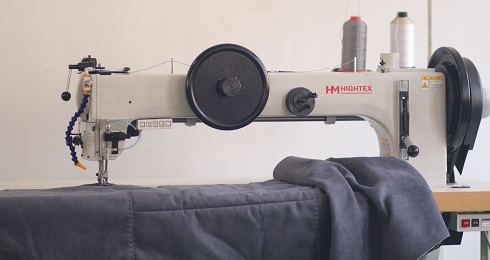 BAS-342GXXL Upholstery CNC programmable sewing machine for decorative stitching on loveseat, sofa chair and seat cushions
Large field CNC programmable upholstery sewing machine with 1000x400mm sewing area and highest quality sewing for the custom loveseat, sofa chair and seat cushions. Excessive or insufficient pressing by the stepping foot can be prevented, enabling a finish with uniform thread tightening.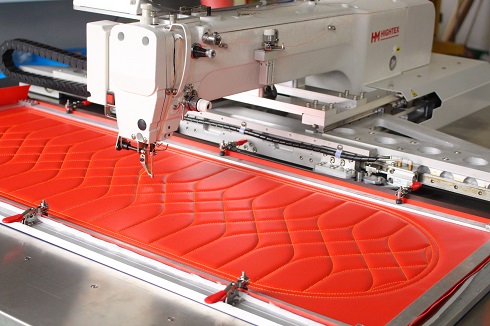 728-15 Low cost 2 needle extra heavy duty walking foot thick thread sewing machine for decorative seams on leather
It is great industrial sewing equipment for leather sofa manufacturers due to its excellent performance at the most competitive price in the market; The walking foot compound feed mechanism can easily sew layers of slippery materials; Is fitted with two extra large vertically mounted hook & bases (6 times bigger compare to regular industrial sewing machine) for sewing with very thick thread up to Nm 10/3; Up to 10 mm long stitches for decorative topstitching seams; Excellent climbing properties and high needle penetration power guarantee easy sewing thick spots or cross seams, without skipped stitch, loosing bottom thread and shorten stitch length.
7510NL-25 Long arm walking foot upholstery sewing machine
This afforable triple feed long arm industrial sewing machine matches best to the sewing of medium to heavy materials. The machine's rectangular feeding motion promises the consistent feeding of materials of all thicknesses without stitch gathering, Ideal for auto & marine upholstery workshop.
Click here for video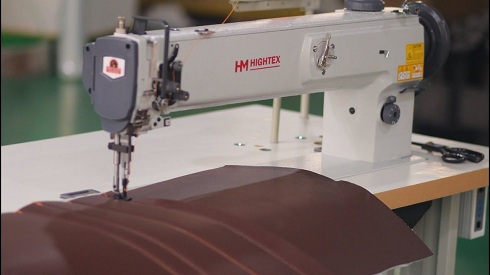 Cowboy 801 Leather Skiving Machine

A skiving machine is designed to bevel the edge of leather and rubber like textiles. For Skiving the edges of leather in order to fold or piece leather together. For Horn Wraps, Saddle Work, Boots, sofas, Shoes, Apparel, Bags, etc.
Kinedyne HM-750T the most powerful energy saving servo motor for heavy duty industrial sewing machines
A super powerful, quiet and reliable energy saving servo motor perfect for extra heavy duty webbing sewing machine. This high performance servo motor can save 60-80% electricity and improve 20-40% efficiency of the harness sewing machines. Usually the cost of servo motor can be recovered within 2-3 years by saving money on electricity. However the advantage of time savings and labor cost saving will make the actual return on investment faster.
Click here for 3D video
Click here for DEMO video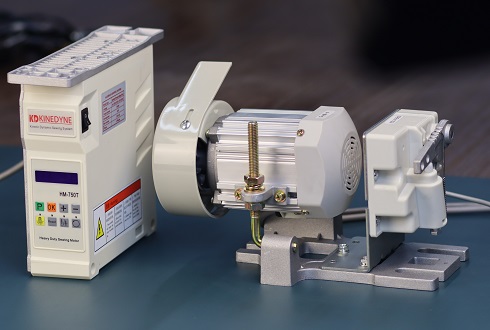 Best price heavy duty top stitching thread for leather sofa and armchair
HigTex N66 Heavy duty Nylon thread is designed for heavy-weight sewing applications, it is the popular choice to use when stitching upholstery, leather, vinyl, canvas, webbing and other heavy fabric.
HighTex premium bonded nylon thread widely used in manufacturing of furniture upholstery (leather sofas and armchair), car upholstery, automotive interiors, shoes & footwear, leather bag & backpack, wallets, handbags, leather belts & luggage, saddlery (knife sheath, holster, saddles, harness, bridles, handcrafted belts).
HighTex N66 extra strong sewing threads are made according to the highest quality standards but with affordable price. If your desire is a top quality thread with the best of stitching properties, then Pre-Lubricated Bonded Nylon threads are the only choice. Great for hand sewing too!!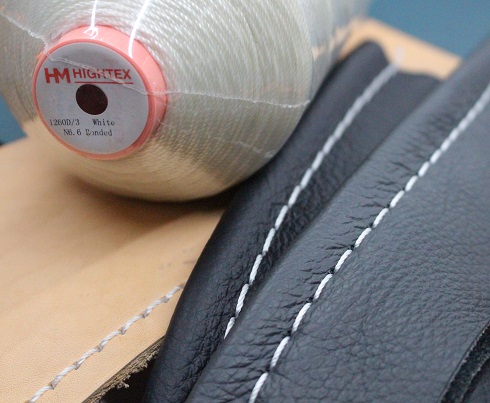 If you have any questions or concerns, please feel free to contact us at info@automatic-sewing.com, thank you!